Flatter world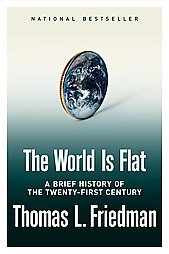 Publisher's Weekly
reports
that Thomas Friedman has prepared an expanded and updated version of his groundbreaking and controversial book,
The World is Flat.
No surprise, save for the fact that the revised version will be in hardback. It's become typical for topical non-fiction to be revised for the paperback version, but a bit odd to do so with a second hardback. Either way, it will be interesting to see if this is simply an amplification of the original points with more examples --
PW
reports that it will feature "new reporting, insights and commentary, drawn both from Friedman's 2005 travels (to India, China and the Middle East) and from his encounters with readers around the country who have shared their accounts of the flattening of the world as they have felt it" -- or if any of his assumptions will be altered or challenged.